Up to 99% on domains!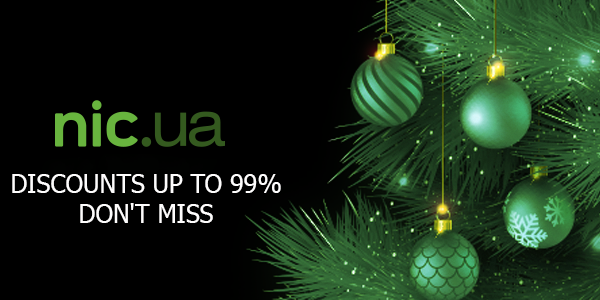 In honor of the New Year, we reduce from 40% to 99% of the cost for popular domains and give cash coupons for hosting from 1500 UAH. Cool, isn't it?
Rather, choose the products you need from the list and place your order.
You have time! By the way, domains and hosting are a great gift. Think, maybe in your environment there are those to whom you can donate a popular domain or hosting. What do you say?
Apart from domains and hosting, you should think about the security of your site. We give a 20% discount on SSL certificates. Choose yours.
Product
Discount
Coupon code
Valid until:
CO.UA
99%
COUA99NEWYEAR
07.01.2021
BIZ.UA
99%
BIZUA99NEWYEAR
07.01.2021
.EMAIL
40%
EMAIL40NEWYEAR
31.12.2020
.TODAY
40%
TODAY40NEWYEAR
31.12.2020
.INFO
40%
INFO40NEWYEAR
31.12.2020
.LIFE
40%
LIFE40NEWYEAR
31.12.2020
.LINK
40%
LINK40NEWYEAR
31.12.2020
.HOST
40%
HOST60NEWYEAR
31.12.2020
.RED
40%
RED40NEWYEAR
31.12.2020
.PW
40%
PW40NEWYEAR
31.12.2020
.PARTY
40%
PARTY40NEWYEAR
31.12.2020
.PRO
40%
PRO40NEWYEAR
31.12.2020
Хостинг NIC-S - DA (when ordering for 1 year)
500 грн.
NICS500NEWYEAR
07.01.2021
Хостинг NIC-M - DA (when ordering for 1 year)
1000 грн.
NICM1000NEWYEAR
07.01.2021
Хостинг NIC-L - DA (when ordering for 1 year)
1500 грн.
NICL1500NEWYEAR
07.01.2021
Trademark registration
20%
07.01.2021
Comodo SSL
20%
COMODO20SSLNY
07.01.2021
Positive SSL
20%
POSITIVE20SSLNY
07.01.2021
Positive Wildcard SSL
20%
PWILDCARD20SSL20NY
07.01.2021
EV SSL
20%
EVSLL20NEWYEAR
07.01.2021
Until January 7, 2021 inclusively, get 30% cashback to your bonus account for renewing and registration of domains, hosting and SSL certificates in NIC.UA
Become a participant of the iPhone 12 giveaway!/strong>
Register on the «Business in a crisis»
website.
Join us on social networks.
Just 2 conditions and you have a chance to win a brand new iPhone 12. There are few participants, so the chances of winning are very high!
Don't miss your chance!