What you should do before blocking of the Yandex, Mail.ru and other services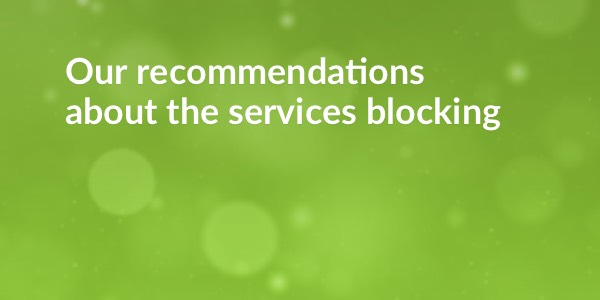 Recently, the President of Ukraine signed a decree on sanctions on certain Russian resources. What if you use the services under the «censorship»?
If the e-mail of your NIC.UA account is located in yandex​.​ru, yandex​.​ua, mail​.​ru, mail​.​ua, bk​.​ru, list​.​ru or is served by mail for domains from Yandex, change it through our customer support. This is necessary to continue to receive important notifications and to have access to the account in case of lost password.
If you have a redirect mail, you need to change it. If you use mail for a domain from Yandex, we recommend to change the mail service. For example, to ZohoMail, G Suite (Google For Business) or mail server from NIC​.​UA.
If you have registered Yandex name servers in your domains, we recommend that you change them to the NIC​.​UA name servers. They are free for domains registered at NIC​.​UA, and for other domains, name servers cost only $ 1 per year. And if you transfer the domain to NIC​.​UA, you will receive a 15% discount on all our services!
If the blocking has already occurred
If you did not manage to change your e-mail and the resource you need has already been blocked, register DNS from Google in your operating system or on your home router. This will help to restore the work of the resources you need (depending on the type of blocking). Contact a technical expert if the advice did not help.
We believe that censorship does not belong in a developed European state. That is how we want to see Ukraine. We believe in a conscious Ukrainian society, but not in the political bans.