For registration or renewing your domain.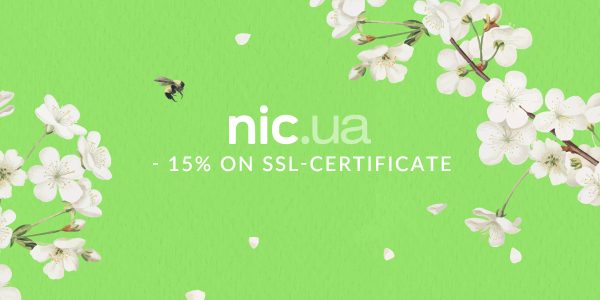 Recently Chrome has transferred to use HTTPS protocol by default. This means that without an SSL-certificate, the site will be less effective than others.

This can not be allowed! Order or renew the domain now and get 15% discount for all SSL-certificates NIC.UA. The promotion is valid until May 31, 2021.

* After successfully activating your order when registering or renewing your domain, you will receive an email with a personal code to activate a discount on any SSL-certificate.

Connect Telegram-bot or Viber-bot in your personal account, so you won`t miss important notifications:

- about the expiration date of the domain and hosting;
- a sum of accumulated bonuses;
- profitable personal offers, etc.

Remember that NIC.UA gives many advantages!

You may become our partner and get a favorable offer. All materials for cooperation find in a personal account.

Get a permanent discount of 15% for all domain transfer services to us.

Accumulate bonuses on your own account so you can pay up to 25% of the next bill. Information about bonuses.

Connect the automatic prolongation of a domain and hosting.

* Attention! For security reasons, we recommend you to connect a two-factor authentication in your account.