Day is shorter — discounts are bigger!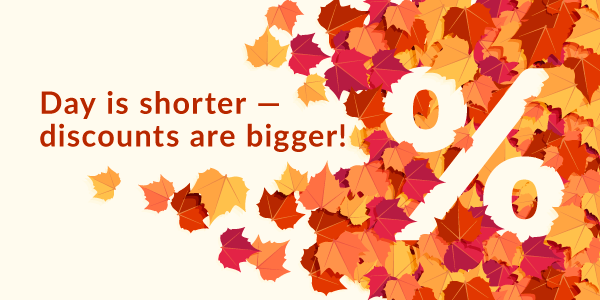 Perfect time to warm yourself with rugs and great discounts up to 50% for the registration and renewal of services at the equator of autumn. Yes, yes, that's right — discounts for the renewal!
Use our special promo codes* until 11/30/2019 inclusive:
- for domains — DNIC19
- for hosting — HNIC19
- for SSL — SNIC19
- for ТМ — TMNIC19
Codes can be used an unlimited number of times for any account. Don't forget to share the discount with your friends :)
Why are we better than others?
Even an atomic explosion won't stop the work of your domain — all domains at NIC.UA are supported by dozens of servers distributed throughout the globe;
In our support chat you won't stay without an answer for more than a minute, and your email will get an answer within 20 minutes;
The convenient NIC.UA's website is adapted for all browsers — comfortable work is provided both from the phone and from the computer;
Our customers sleep peacefully and never worry about the timely renewal of domains — just add a payment card to your account and enable auto-renewal of services;
The best loyalty program on the market with additional bonuses (cashback) and discounts;
Our website has a unique EV SSL level. Each time, while working with NIC.UA, pay attention to the green line of the browser or to the name NIC.UA LLC in the browser line. Hackers won't be able to falsify it, that's why the EV SSL certificate is backed by a guarantee of 1,000,000 euros;
Fact — every fourth client leaves a positive feedback, and only 0.05% remain dissatisfied after the first contact;
Fail-safe hosting and stable operation of cloud servers — we can solve any problem as quickly as possible. Also, we store backups additionally in Dropbox;
Our employees aren't afraid of outages and natural disasters due to the working tools in the cloud. No electricity at the office? No problem, let's work at home :)
The ability to register free domains in the .PP.UA zone;
A huge Knowledge Base, with all the necessary answers in your preferred language.
*Discount isn't applicable for the «Personal Cloud» service.