✂️ Prices are halved on Black Friday!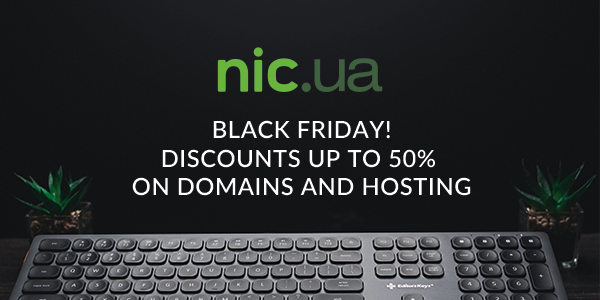 We want to support our clients not by words, but profitable business discounts. Choose a domain, register hosting and start preparing for the New Year and Christmas.
We know — you have a lot of ideas for new projects! Quick, bring them in life and expand your horizons!
🔥 Promotion is valid up to and including December, 01, 2020.
Product
Discount
Coupon code
.CO.UA
50%
COUA50FRIDAY
.BIZ.UA
50%
BIZUA50FRIDAY
.COM.UA
15%
COMUA15FRIDAY
.ORG.UA
15%
ORGUA15FRIDAY
.KIEV.UA
15%
KIEV15FRIDAY
.BIZ
50%
BIZ50FRIDAY
.BLACK
50%
BLACK50FRIDAY
.HOST
50%
HOST50FRIDAY
.INFO
50%
INFO50FRIDAY
.MOBI
50%
MOBI50FRIDAY
.PARTY
50%
PARTY50FRIDAY
.PRO
50%
PRO50FRIDAY
.PW
50%
PW50FRIDAY
Hosting NIC-S (Direct Admin)
50%
50FRIDAYHS
Hosting NIC-M (Direct Admin)
50%
50FRIDAYMHM
Hosting NIC-L (Direct Admin)
50%
50FRIDAYHL