🔥 Cashback 50% OFF on all orders in NIC.UA!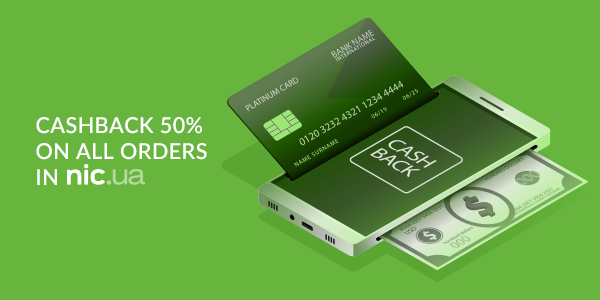 Promotion for supporting Ukrainian business during the lockdown! This is an unscheduled promotion. Our team decided to launch it to support Ukrainian entrepreneurs. We can support each other by common efforts and reciprocity. Let's keep together, colleagues!
Until May 31, inclusively get 50% of cashback on your bonus account when renewing, transferring, and registering domains, hosting, and SSL certificates. Go to your personal account.
Click faster on the link to order a new:

- DOMAIN
- HOSTING (cPanel and DirectAdmin)
- SSL-сертифікат
How do discounts and bonuses work?
Bonuses will be credited to your account after order activation. Bonuses can be used to pay up to 25% of the bill for any service. Read more about how bonuses work on our website.
Do not forget: if you paid part of the invoice with bonuses, bonuses will not be credited for this purchase.