Supporting you with 100% cashback + 500 UAH for hosting!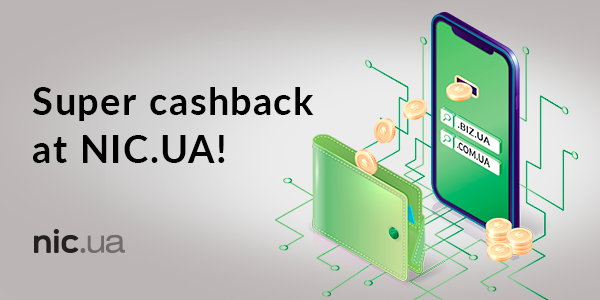 Quarantine — a high time to grow and start your own business without leaving your home! Register your domain name in the .CO.UA or .BIZ.UA zone and get 100% of the order price back to your bonus account for the further development of your projects.
Another good news: after the registration of any domain name you will receive by email a coupon code with a 500 UAH discount for any hosting plan for the website with DirectAdmin control panel. With its help you will be able to provide your website with a reliable hosting almost for free :)
The event is valid before May 31, 2020.
How do the discounts and bonuses work?
After payment, you will receive bonuses automatically. With their help you may pay up to 25% on any order price.
Discounts and bonuses are not aligned. If you use the discount coupon, you don't receive bonuses and vice versa — when you use your bonuses, the discount is not applicable. You need to choose one option which is more profitable for you.
A coupon with 500 UAH discount won't be sent to your email after free domain in PP.UA zone registration.