💝 SUPER PROMOTION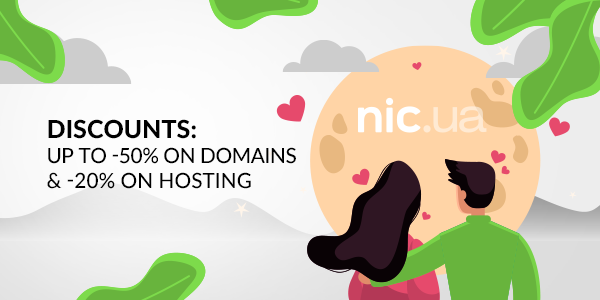 We are glad to inform you, that we have SUPER DISCOUNTS: up to - 50% on domain registration and - 20% on hosting.
Register a domain and a hosting and to start building your website. Planning your promotion. Have defining your target audience and distribution channels — here are video tutorials on accessible promotion in 2021.
The promotion for St. Valentine's Day is valid until February 19, 2021 incl.
Product
Discount
Coupon code
.CO.UA
50%
COUA50LOVE
.BIZ.UA
50%
BIZUA50LOVE
.BIZ
30%
BIZ30LOVE
.INFO
30%
INFO30LOVE
.ORG
30%
ORG30LOVE
.SPACE
30%
SPACE30LOVE
.WEBSITE
30%
WEBSITE30LOVE
.HOST
30%
HOST30LOVE
.PRO
30%
PRO30LOVE
.PW
30%
PW30LOVE
.PARTY
30%
PARTY30LOVE
Hosting NIC-S (Direct Admin)
20%
HOSTNICS20LOVE
Hosting NIC-M (Direct Admin)
20%
HOSTNICS20LOVE
Hosting NIC-L (Direct Admin)
20%
HOSTNICS20LOVE